Wed, 11/06/2013 - 21:34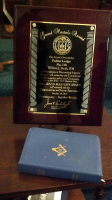 William Pacak, W.M. was presented the Grand Master's Award at Ohio Grand Lodge this past October 19, 2013.  Less than 5% of the Lodge's in Ohio are bestowed this honor.  The plaque reads:
This Award is Presented to Fulton Lodge #248, William J. Pacak, WM, In Recognition of Outstanding Support, Exceptional Leadership and Commitment to Freemasonry and to your Community during the 2012-2013 Masonic Year.  This Grand Master's Award is Presented with my Congratulations and Sincere Appreciation.  October 19, 2013.  James Easterling, Grand Master.
We at Fulton Lodge also congratulate Bill on a fantastic year, and look forward to great growth in 2014.